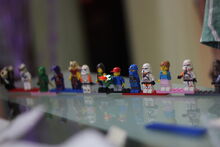 Hello, welcome to my profile 'document'.(why is it even called that anyway?) I'm TheAnonymousA, and I'm going to surprise you by not having a fancy user page. There. Surprised? 😁 I write a lot of poems and stories, but I'm pretty bad at drawing. Those are a few of my minifigures there. I have lots of them. I have created the following characters:
List of stuff to do
🌈 Write more poems and stories.
🌈 Write some book reviews since I'm such a bookworm.
🌈 Get/Make pictures for my characters.